Autumn 2006
October 18th, 2006
Through this period, it seems we backed off from any big projects. We had some travel planned and for the next few months, one or the other or both of us would be off island.
It was during Lisa's trip to the Mainland that I built our front door out of tropical hardwood pallets I had salvaged. It turned out rather nice; an open frame of lapped boards with an inset for the screen frames top and bottom. For some reason I was unable to take a decent picture of it; it may be featured some other time.
First, it was a surprise trip to the Grand Wailea Maui, courtesy of our friend Syd from Sedona. She just showed up and insisted we enjoy a fabulous luxurious weekend with her and her assistant. It was thouroghly enjoyable, espcially the full day in the spa. Very nice.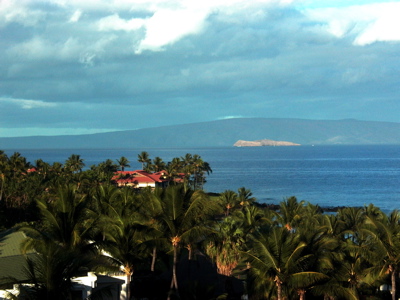 This next series of shots are just to set the stage of developmet at this time. Much of the space has settled into a place where it can steadily grow. We have the veggie garden: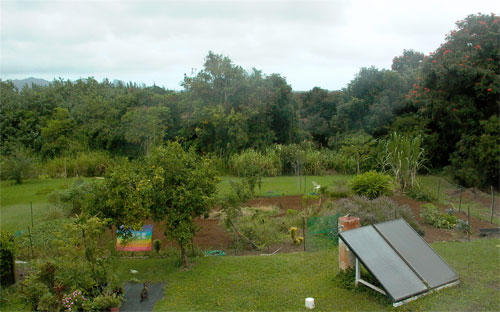 Sugar Cane, Beans (a tasty, big, fat purple kind), sweet potatoes (also the purple kind!), galangal, blue basil (for the bees), asparagus and lettuce. Kea (the cat) can be seen surveying her garden next to the nursery plants.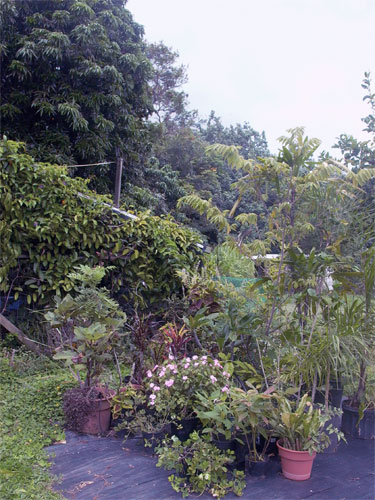 This is where we hold trees and shrubs until they find their place on the land.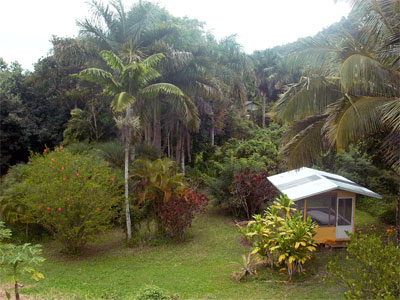 This is a nice shot of the Mango Palace in it's little corner of the place. It's got a massage table in there now (belonging to our housemate at the time, Deborah Burnham).