January 2007: Lisa's Brother Visits
January 13th, 2007
January of 2007 began a huge burst of activity that was to last for months. The Bali trip was done, the stuff was on the boat and we were kinda getting ready for it to arrive.
Lisa's brother Dick, his wife Margaret and son Eric came to stay for a while. They were at a crossroads and were considering where they might live, and our little island was up for consideration. This was very fortunate for us because we were going to need a lot of help. It was fortunate for them because they wanted to be somewhere warm.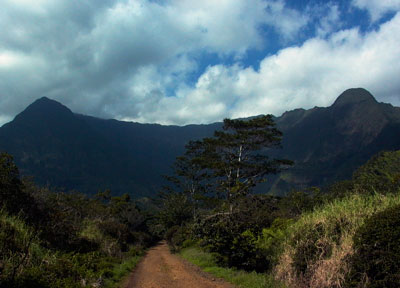 There's a road that goes deep into the mountains not far from our house—it leads to the base of Mt. Waialeale, right to the bottom of a 3,000-foot cliff that becomes strewn with waterfalls after a good rain. Problem is, you don't want to be there after a good rain, so we seldom get to see this wonderous sight! We took a little day trip to the area, deep in the rainforest, crossed by dozens of clear streams and irrigation tunnels. This photo was taken from inside such a tunnel to the open pool beyond.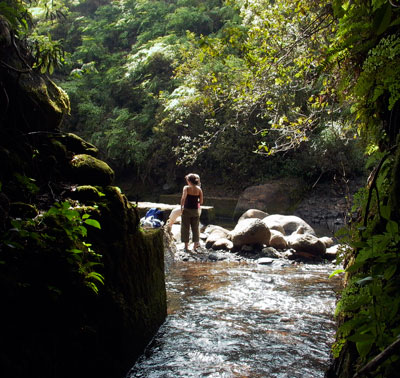 Back on the ranch, we had just gotten in a new shipment of plants—bamboo from our friend Rich's farm over on Maui. Six dwarf bamboos (Bambusa multiplex) for our roadside hedge, and two very special timber species, Bambusa oldhamii. This plant is also known as "giant timber bamboo," even though at 80 feet it is one of the smaller of the timber species. They went into the ground very unimpressively like so: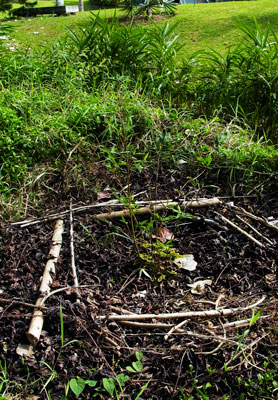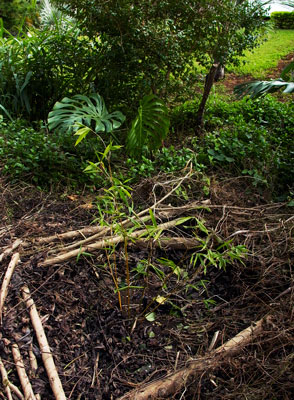 We'll get back to these later, as I'm sure it will be impressive then.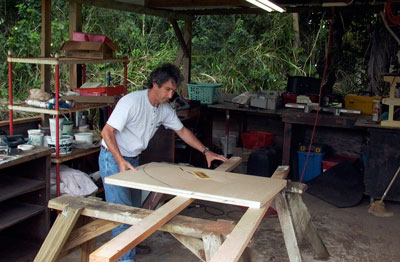 Dick is really quite handy in the shop and he took on the task of building our bathroom vanity. We kinda let that ride with the temporary vanity that Aleister put together last year, but we got big things coming up and the bathroom needs to be finished. I had some plans lying around and soon Dick was cutting and assembling the new vanity countertop.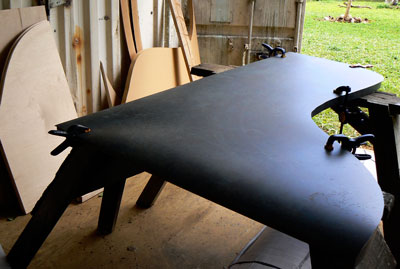 Applying the formica is always a tense moment as you really only get one attempt. The glue sticks instantly, so getting it laid out beforehand and planning the application is essential. We couldn't have a square countertop, either—that would be too easy! Looks a bit like a piano top now that I see it like this, but according to the plans in the computer it will fit perfectly into the space. We'll see about that.