February 2007: The Container Arrives
January 30th, 2007
It is January 30, 2007 and our ship has come in. Or at least one 30 ft. container of it, anyhow. That is one hell of a lot of stuff, I can tell you, because Lisa and I worked full time for three weeks just buying things to fill it. We skipped that part in our little narrative.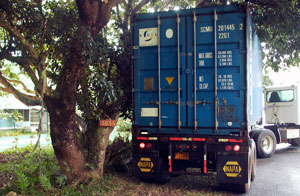 At last: eight weeks, thousands of dollars and a rather daunting pile of official paperwork later, it is here. I can tell you this is an exciting moment!

We had a bit of a time cutting the seal on this sucker…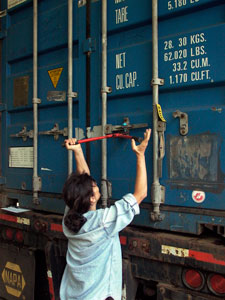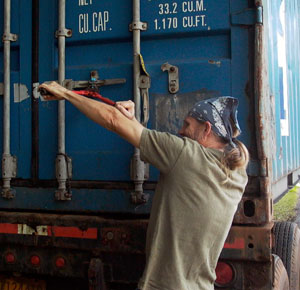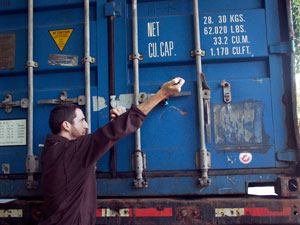 Jonathan seems to have the right technique: see that look of determination? That seal is breaking.
It opens…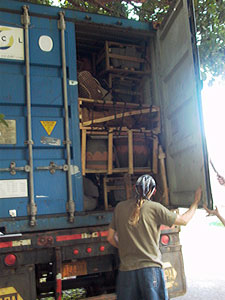 Wond'rous things lie inside…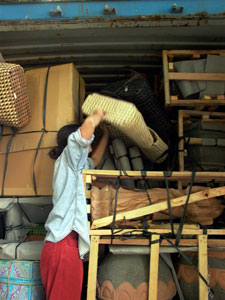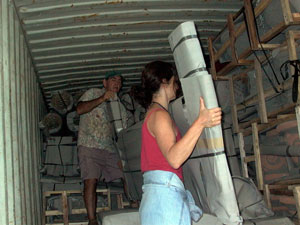 It's packed full, spaces filled with small goods, big pieces fitted in like a Tetris game. Our housemate at the time, Joseph, lends a hand.
Included in the shipment was quite a lot of stone—statues, water gardens, planters, stone niches. That stuff is heavy, we hoisted it into the truck and shifted it to the lawn. Some of the pieces were too big to lift, so some friends from the construction site across the street brought their loader over.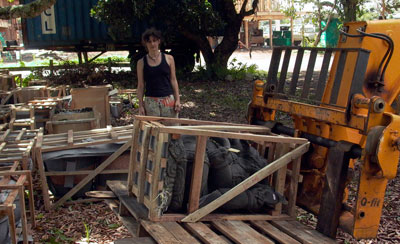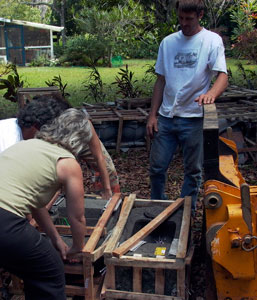 That Ganesha statue Lisa is watching seemed small in the shop, but here, it was far more that we could carry. The loader came in real handy, I tell you! Thanks to Dean Sillman here, the contractor on the construction across the street.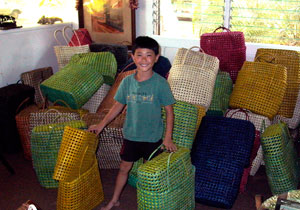 When the unloading was done, the house was full, the yard was full and so was our storage container. Eric is in charge of the colored baskets we filled spaces with.
Of course we had lists and manifests to check: here Lisa and Eric inventory some of the nice handmade paper goods we brought in.