January 2005: We build a Cabaña
January 18th, 2005
We are blessed with expert help.
James and Robin, long­time friends from the main­land, arrive to make a huge con­tri­bu­tion to the ener­gy and form of Lokelani Ranch. We have been look­ing for­ward to this for some time now, being one of the big steps for­ward in our plan to refur­bish the house. This project has been at the top of the list since we got here, but we had not been able to make any progress on it— main­ly for lack of expe­ri­enced help to get us going in the right direc­tion. When James and Robin vol­un­teered to give us two months of their time, we knew we could begin to move for­ward on the house in real­ly sub­stan­tial ways. Woo hoo!
First, how­ev­er, we want­ed to build a lit­tle cabaña, a place for James and Robin to stay, and a small room we could also use for yoga, med­i­ta­tion 'etc. We began on this right away, select­ing a fair­ly seclud­ed spot near the old banana grove just behind the coconut tree… and not too far from the house.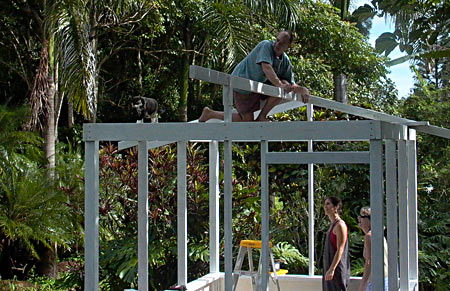 Kea, the 'build­ing inspec­tor,' checks the fram­ing of the sha­la, to the amuse­ment of James, Robin and Lisa. Photo by Annette.
Our design goals for the project were to cre­ate a pri­vate, yet open space, immersed in the nature around. We need­ed to keep the size under 100 square feet (it's 98) and of course the cost as low as pos­si­ble. All the lum­ber was pre-paint­ed with primer… we want it to last!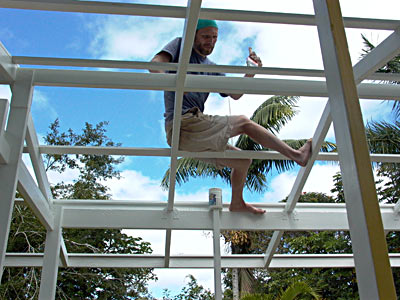 Painting the rafters.
It's so sat­is­fy­ing to have the work done so metic­u­lous­ly. This lit­tle build­ing is tight! We are learn­ing a tremen­dous amount about how to build things.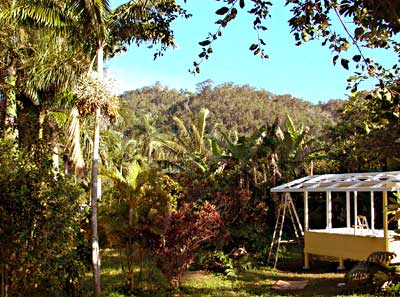 This view gives an impres­sion of the set­ting of the cabaña. The hills in the dis­tance are the 'feet' of the Giant.
I said before the house refurb has been at the top of our list since the begin­ning. Actually, the yoga shala/sanctuary/meditation space has been at the top of the list well before we moved to Kaua'i. We knew we would need a space for those pur­pos­es if we were to man­i­fest our "direc­tion, def­i­n­i­tion and pur­pose" for this land. And here it is… or at least the first ver­sion of it. We still plan to cre­ate a sacred space, larg­er and ded­i­cat­ed sole­ly to those pur­pos­es, as this one will be called into ser­vice as a guest space fair­ly often, I think.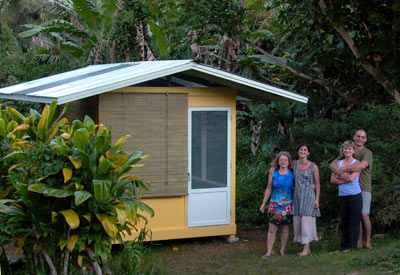 And here we are with the com­plet­ed cabaña! Annette, Lisa, Robin and James right­ful­ly beam­ing over their work.
And it's now a space we can use, although some fin­ish­ing touch­es and amend­ments will be required: light­ing, a front porch and a way to raise and low­er the blinds from the inside. Of course there is the space for an artis­tic impulse to dec­o­rate the place… it's kin­da plain at the moment, but that will change with time. Also need­ed is a name for the build­ing: var­i­ous sug­ges­tions have come up: The Shack, The Yoga Shala, The Cabaña, Banana Cabana, Shambhala Shala… etc. In the end it will name itself— got a suggestion?
Next we begin the refurb of the house, thank you for bless­ing us with your help, James and Robin!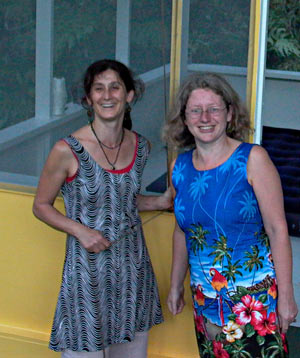 Lisa and Annette in front of the com­plet­ed cabaña.
I want to thank and acknowl­edge our good friend Annette, whom we came to know and love dur­ing our time at the Findhorn com­mu­ni­ty. She brought the gift of her open-heart­ed intu­itive work and fur­ther con­nects this place with the net­work of cen­ters of light. We loved hav­ing you here! Thank you for all you have con­tributed and we hold the space for your return and your part­ner Innes, also. Lightworkers essen­tial to all we intend here.