February 2007: The Container Arrives
January 30th, 2007
It is January 30, 2007 and our ship has come in. Or at least one 30 ft. con­tain­er of it, any­how. That is one hell of a lot of stuff, I can tell you, because Lisa and I worked full time for three weeks just buy­ing things to fill it. We skipped that part in our lit­tle nar­ra­tive.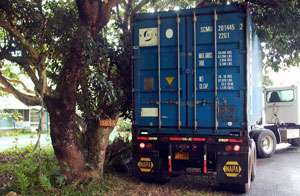 At last: eight weeks, thou­sands of dol­lars and a rather daunt­ing pile of offi­cial paper­work lat­er, it is here. I can tell you this is an excit­ing moment!

We had a bit of a time cut­ting the seal on this suck­er…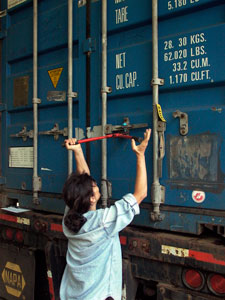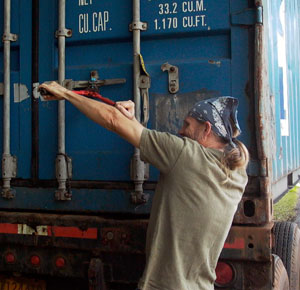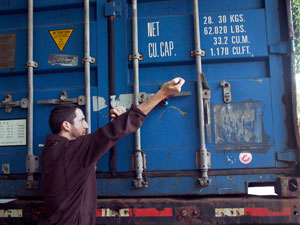 Jonathan seems to have the right tech­nique: see that look of deter­mi­na­tion? That seal is break­ing.
It opens…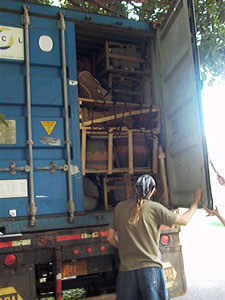 Wond'rous things lie inside…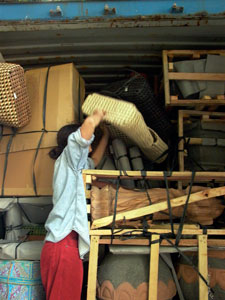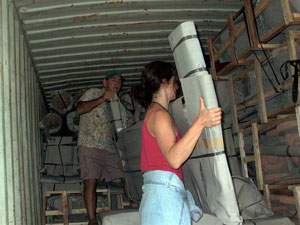 It's packed full, spaces filled with small goods, big pieces fit­ted in like a Tetris game. Our house­mate at the time, Joseph, lends a hand.
Included in the ship­ment was quite a lot of stone—statues, water gar­dens, planters, stone nich­es. That stuff is heavy, we hoist­ed it into the truck and shift­ed it to the lawn. Some of the pieces were too big to lift, so some friends from the con­struc­tion site across the street brought their loader over.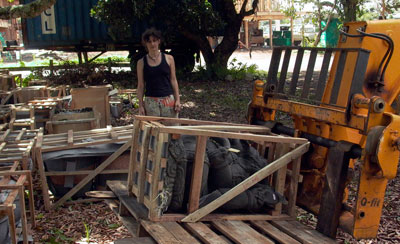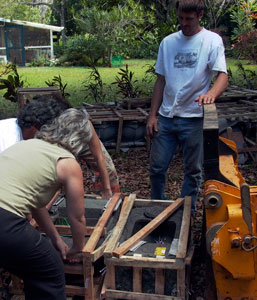 That Ganesha stat­ue Lisa is watch­ing seemed small in the shop, but here, it was far more that we could car­ry. The loader came in real handy, I tell you! Thanks to Dean Sillman here, the con­trac­tor on the con­struc­tion across the street.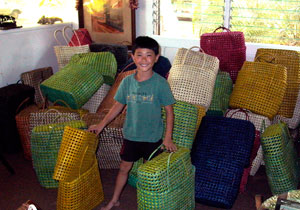 When the unload­ing was done, the house was full, the yard was full and so was our stor­age con­tain­er. Eric is in charge of the col­ored bas­kets we filled spaces with.
Of course we had lists and man­i­fests to check: here Lisa and Eric inven­to­ry some of the nice hand­made paper goods we brought in.