January 2007: Lisa's Brother Visits
January 13th, 2007
January of 2007 began a huge burst of activ­i­ty that was to last for months. The Bali trip was done, the stuff was on the boat and we were kin­da get­ting ready for it to arrive.
Lisa's broth­er Dick, his wife Margaret and son Eric came to stay for a while. They were at a cross­roads and were con­sid­er­ing where they might live, and our lit­tle island was up for con­sid­er­a­tion. This was very for­tu­nate for us because we were going to need a lot of help. It was for­tu­nate for them because they want­ed to be some­where warm.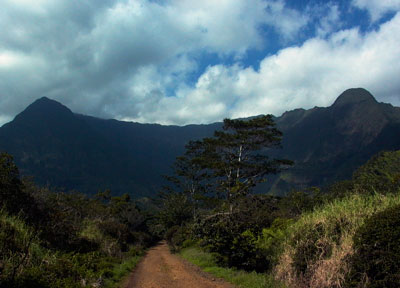 There's a road that goes deep into the moun­tains not far from our house—it leads to the base of Mt. Waialeale, right to the bot­tom of a 3,000-foot cliff that becomes strewn with water­falls after a good rain. Problem is, you don't want to be there after a good rain, so we sel­dom get to see this won­der­ous sight! We took a lit­tle day trip to the area, deep in the rain­for­est, crossed by dozens of clear streams and irri­ga­tion tun­nels. This pho­to was tak­en from inside such a tun­nel to the open pool beyond.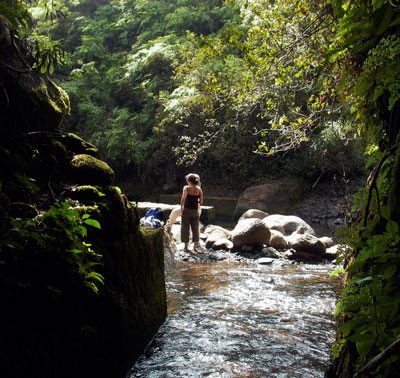 Back on the ranch, we had just got­ten in a new ship­ment of plants—bamboo from our friend Rich's farm over on Maui. Six dwarf bam­boos (Bambusa mul­ti­plex) for our road­side hedge, and two very spe­cial tim­ber species, Bambusa old­hamii. This plant is also known as "giant tim­ber bam­boo," even though at 80 feet it is one of the small­er of the tim­ber species. They went into the ground very unim­pres­sive­ly like so: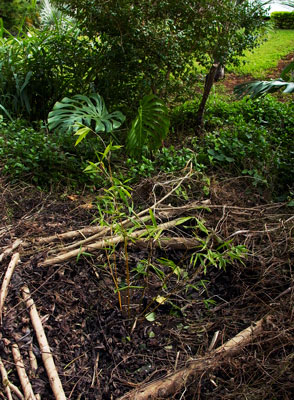 We'll get back to these lat­er, as I'm sure it will be impres­sive then.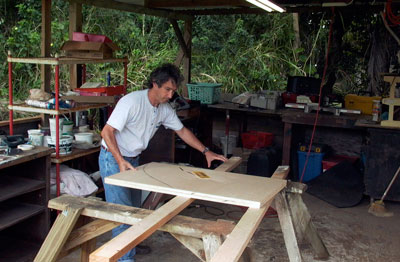 Dick is real­ly quite handy in the shop and he took on the task of build­ing our bath­room van­i­ty. We kin­da let that ride with the tem­po­rary van­i­ty that Aleister put togeth­er last year, but we got big things com­ing up and the bath­room needs to be fin­ished. I had some plans lying around and soon Dick was cut­ting and assem­bling the new van­i­ty coun­ter­top.
Applying the formi­ca is always a tense moment as you real­ly only get one attempt. The glue sticks instant­ly, so get­ting it laid out before­hand and plan­ning the appli­ca­tion is essen­tial. We could­n't have a square coun­ter­top, either—that would be too easy! Looks a bit like a piano top now that I see it like this, but accord­ing to the plans in the com­put­er it will fit per­fect­ly into the space. We'll see about that.