November 2006: Mainland & Bali Trips
November 10th, 2006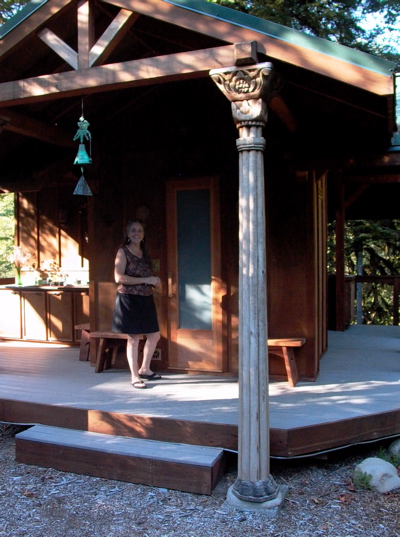 Anita by her Balinese-fla­vored bath­house in McKenzie Bridge, Oregon
Somehow the idea of a trip to Bali insin­u­at­ed itself into our thoughts this year. While vis­it­ing Anita and Steve in the sum­mer, I dis­cussed their trip of the pre­vi­ous year. They had gone over with a friend of theirs who lives part time on the island, loved so much of what they saw, they shipped a con­tain­er full of stuff back for their house, prob­a­bly about half of which was to sell. I got a lot of good shop­ping advice from Anita who's been doing such things for years in the bead and jew­el­ry trade. I also spoke to Bill and Frankie about their trip to Bali— they've been twice—and get some of the scoop on shop­ping. Frankie has an eye for qual­i­ty and beau­ty and also gave me some good pointers.
My trips to the main­land have tak­en on a pat­tern: I go in time for the Oregon Country Fair, stay at Nicki's to pro­vide the cater­ing for her annu­al Alchemical Healing Retreat, and take some kind of side trip to vis­it folks I don't see so much now that I am so far away.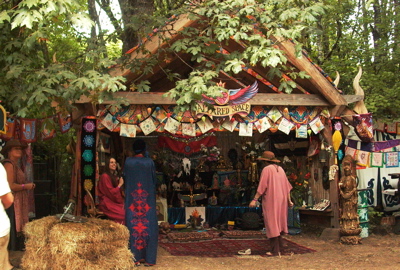 Culver City
This year I vis­it­ed my broth­er Paul and his fam­i­ly in Culver City. Quite an enjoy­able vis­it it was, Gerta, his wife is a very col­or­ful per­son­al­i­ty, and their kids (my neice and nephew) are in their teens and are both quite viva­cious and fun to do stuff with. We enjoyed a mem­o­rable trip to the Getty Center, what a fab­u­lous muse­um! I took a famous panora­ma from the prow of the ship-like build­ing over­look­ing the LA basin. I did a lit­tle sight­see­ing with my friend Lisa Ashook, one of Nicki's stu­dents, who took me to some delight­ful­ly seamy and col­or­ful Chinese and Mexican areas…and the train sta­tion, which is some kind of archi­tec­tur­al won­der. No cam­era for that one, unfortunately!

This panora­ma of L.A. was tak­en from the Getty Center and is my most pop­u­lar image on Panoramio. (Click to see full-size)
I returned to the island refreshed and ready to be home. It's always that way; I love see­ing the Mainland, it's kind of nos­tal­gic by now—also slight­ly horrifying—and seem to always come back to being even more grate­ful to live where I do.
When I returned to Kauaʻi, the Bali trip was some­thing we knew we want­ed to do, and thought it might be pos­si­ble to make a busi­ness trip out of it. We decid­ed to go with­out com­mit­ting to buy­ing a con­tain­er or any­thing, but lined up our finances should it be some­thing we decid­ed to do. We just want­ed to go and see what we thought; we had a cou­ple of places to stay lined up: both through Anita and her friend in Bali.
Actually, there's no way I can do a full acount of our trip right now; besides, this site is about our home on Kauaʻi and the trip had a much big­ger impact on it lat­er; not so much when we went and while we were there. I do have an image or two to share from the trip.