Autumn 2006
October 18th, 2006
Through this peri­od, it seems we backed off from any big projects. We had some trav­el planned and for the next few months, one or the oth­er or both of us would be off island.
It was dur­ing Lisa's trip to the Mainland that I built our front door out of trop­i­cal hard­wood pal­lets I had sal­vaged. It turned out rather nice; an open frame of lapped boards with an inset for the screen frames top and bot­tom. For some rea­son I was unable to take a decent pic­ture of it; it may be fea­tured some oth­er time.
First, it was a sur­prise trip to the Grand Wailea Maui, cour­tesy of our friend Syd from Sedona. She just showed up and insist­ed we enjoy a fab­u­lous lux­u­ri­ous week­end with her and her assis­tant. It was thourogh­ly enjoy­able, esp­cial­ly the full day in the spa. Very nice.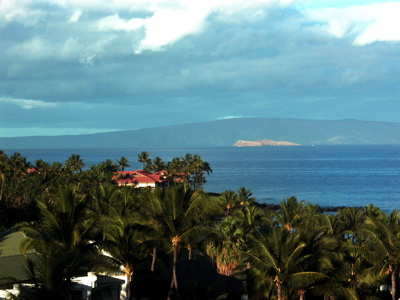 This next series of shots are just to set the stage of devel­op­met at this time. Much of the space has set­tled into a place where it can steadi­ly grow. We have the veg­gie gar­den: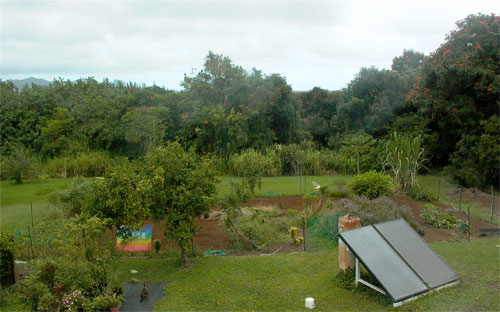 Sugar Cane, Beans (a tasty, big, fat pur­ple kind), sweet pota­toes (also the pur­ple kind!), galan­gal, blue basil (for the bees), aspara­gus and let­tuce. Kea (the cat) can be seen sur­vey­ing her gar­den next to the nurs­ery plants.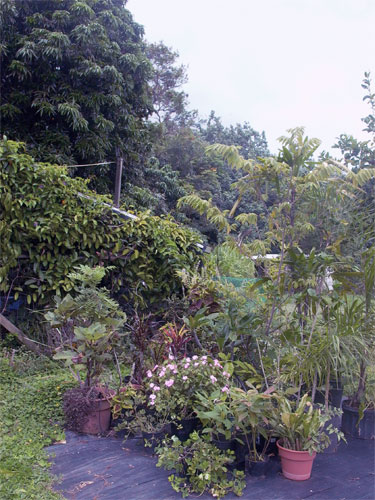 This is where we hold trees and shrubs until they find their place on the land.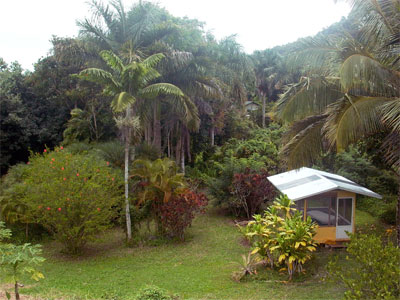 This is a nice shot of the Mango Palace in it's lit­tle cor­ner of the place. It's got a mas­sage table in there now (belong­ing to our house­mate at the time, Deborah Burnham).