May 2006 — Summer 2006
August 18th, 2006
I have just looked at our lit­tle site here after, oh…a cou­ple of years! I real­ly let this get away from me. I'm writ­ing this in April of '08 and I am going to blaze through my pho­tographs and cre­ate a series of pages to bring this jour­nal (oh, what totured use of the word I have made!) up to date. Yes, a few things have hap­pened in the mean­time, and it's a good thing I have been tak­ing pic­tures, and it's an even bet­ter thing that pic­tures these days know when they were tak­en, 'cause I sure don't.
So—off we go on our touch-and-go tour of the last two years here at Lokelani Ranch!
I final­ly got that bath­room floor fin­ished. Never did one of these before, and I learned a few hard lessons, one of them being that a few cracks aren't that big a deal in the end. I'm not remem­ber­ing if the sto­ry behind these love­ly boards has been told, but Jonathan noticed a big pile of off cuts at a job­site: some Brazilian Cherry that should have been left where it was (in the for­est, that is). I fig­ured the next best thing would be to just use every bit of it (not burn it, as they were fix­in' to do at that job site). Jonathan and I lev­ered the warped, reject­ed boards into place and I sand­ed and fin­ished all of it. Looks pret­ty nice and now we're ready to go on to the next chap­ter in the "Bathroom Remodel Saga," which is real­ly just a tale of stuff get­ting done very slow­ly. Kinda bor­ing, but we are very hap­py with our bath­room, so worth the wait.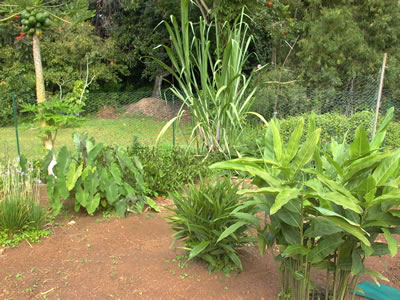 The veg­gie gar­den con­tin­ues to grow and here we have one lit­tle cor­ner of it. We got (from left to right) Garlic Chives, Papaya, Taro, Okinawan Spinach, Cardamom, Sugar Cane, and Galangal. Now, that don't sound like a Thanksgiving feast, but we eat pret­ty good from this gar­den, though it's most­ly herbs and fla­vors, lots of greens and the odd fruit. It just would­n't work with­out the help of a gro­cery store and the local pro­duce mar­ket. I think grow­ing food is a tremen­dous­ly impor­tant thing to do for many rea­sons, two being fore­most: unbeat­able nutri­tion on every lev­el and a pret­ty deep feel­ing of sat­is­fac­tion when you eat your own pro­duce.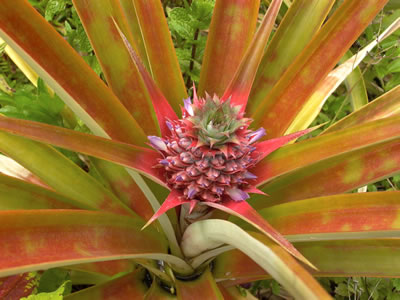 Did I say fruit? This was the year we got our first pineap­ples and we were just like proud par­ents with these love­ly edi­ble bromeli­ads. Bet you did­n't know they flow­ered! It's not always as col­or­ful as this, but there's a flow­er­ing stage that pre­ceeds fruit for­ma­tion. Sounds pret­ty nor­mal when I put it like that, it's just that I've seen plen­ty of pineap­ples grow­ing and nev­er close­ly observed the whole process. Just goes to prove that pineap­ples are not some alien life form (as they may appear), but angiosperms, like most plants. Tasty angiosperms.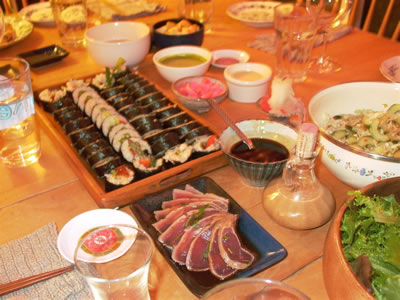 On of the big advan­tages of hav­ing so many cooks in the house is the occa­sion­al pull-out-all-the-stops feast. Sometimes planned, but often spon­ta­neous. In this case a spread fea­tur­ing the for­mi­da­ble sushi skills of Patrick on the occa­sion of a few guests in the house.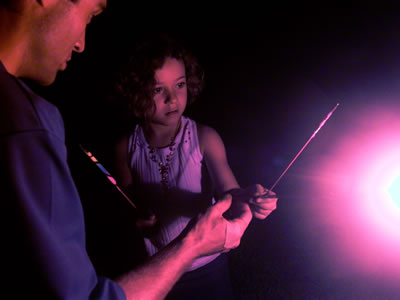 It's the end of June here, and the sparklers have come out at one of our reg­u­lar full moon bon­fires. Maybe slight­ly off-top­ic, but I like these pic­tures a lot, so I share…
This is Izzy, daugh­ter of good friends Jessica and Gabe, whom we know from the Blossoming Lotus. She and her broth­er Anakin are fre­quent guests at the bon­fires.