March 2006: The Cesspool Mystery
March 18th, 2006
This is an old house (by local stan­dards) with many unknown chap­ters in it's ear­ly life. When we were build­ing our bath­room addi­tion, we con­vert­ed our waste water sys­tem to a grey­wa­ter process, leav­ing only the toi­let on the cesspool. We did­n't know much about the cesspool, only that it was old enough to be a cesspool and not a sep­tic tank, but cer­tain­ly not where it was locat­ed.
One wet day the toi­let stopped func­tion­ing reli­ably. It became quick­ly clear the trou­ble was well beyond the toi­let, so with a mis­sion to avoid a huge plumb­ing bill, we bought a 50′ snake. (You plumbers can now laugh…) I suc­ceed­ed in learn­ing that the snake was total­ly unwill­ing to nav­i­gate what­ev­er lay down that mys­te­ri­ous pas­sage, while not improv­ing the per­for­mance of the toi­let one bit. I need­ed pro­fes­sion­al help, but first, I did a lit­tle research on the web to bet­ter under­stand cesspools, sep­tic tanks and all. It was a lit­tle fright­en­ing, but I would find help.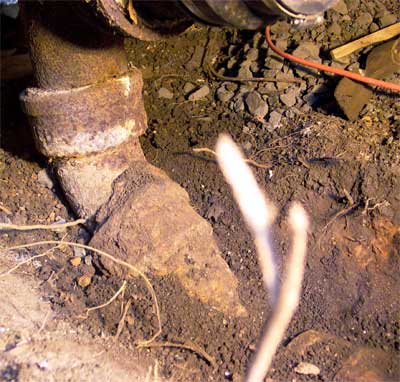 The mys­tery begins with this rather mun­dane look­ing fix­ture just beneath the toi­let.
There hap­pen to be a lot of cesspools on the island, and soon I was talk­ing to a local com­pa­ny that pumps cesspools. Their first ques­tion was "is it uncov­ered?" Uncovered? I did­n't even know where it was! The kind woman from the san­i­ta­tion com­pa­ny said one of their dri­vers had a side­line find­ing and uncov­er­ing peo­ple's cesspools (nat­u­ral­ly). He came over lat­er that after­noon and probes in hand, we began to poke the ground. He was used to see­ing some kind of visu­al clue to the pool's loca­tion, but we saw noth­ing that indi­cat­ed where it might be. After learn­ing a bit about how to go about search­ing, he left us to our own devices.
This is when we began to dig. First, I crawled under the house and began to dig around the pipe that con­nect­ed to the toi­let to get some idea of where it went. It was hard going, but I soon came to an elbow that seemed to indi­cate the angle of the pipe going away from the house. Following that, I began to dig a trench along the side of the house in order to inter­cept the pipe as it head­ed out. This is the stan­dard method.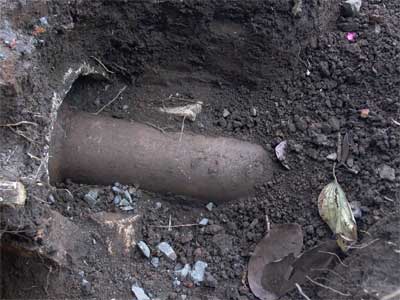 The first pipe I dis­cov­ered seemed unlike­ly, but I did­n't know what to expect and was wish­ful. This could nev­er have been the pipe.
I did even­tu­al­ly find a pipe, but it was ter­ra cot­ta, not iron! But about the right size and loca­tion, so I dug it out a bit. The angle was odd, but I fig­ured the sys­tem was old and they did things dif­fer­ent on those days, so I began to probe around, try­ing to find out where that pipe went. Soon, Jonathan was help­ing with the prob­ing and sight­ing and we suc­ceed­ed in map­ping out the path of that old pipe; but by now, we knew the angle was too wrong to be the right pipe.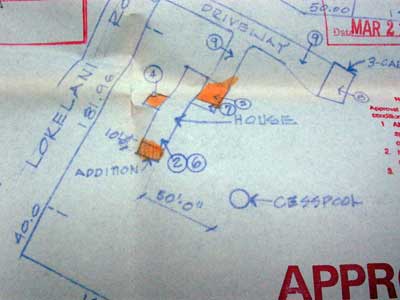 This very con­vinc­ing draw­ing actu­al­ly had us look­ing for a cesspool 50 feet from the house!
A day or so lat­er, I found the map. I had seen the cesspool drawn on a map some time back when I was going through all the old records and stuff around here. There was a per­mit appli­ca­tion for the repair work fol­low­ing hur­ri­cane Iniki and in an inset was a site plan with a cesspool lined out. Jonathan came over and we game­ly plot­ted out the loca­tion of the cesspool, think­ing we final­ly had the goods on that pool. But there was no pool and it began to dawn that the draw­ing was sim­ply to sat­is­fy the per­mit­ters that the cesspool was some­where out of the way. The archi­tect had no idea where the cesspool actu­al­ly was.
Back to the pipe. Well, that pipe has to go some­where! So a few days lat­er Jonathan crawled under the house and began to dig around the pipe to get more of the sto­ry. We found anoth­er elbow, but the direc­tion of the pipe remained the same. When the guy from the sep­tic pump­ing com­pa­ny came over, he said there would be no bend in the pipe, that it would go straight from the toi­let to the cesspool. Although per­fect­ly log­i­cal, this turned out to be com­plete­ly mis­lead­ing, like the old pipe and the map.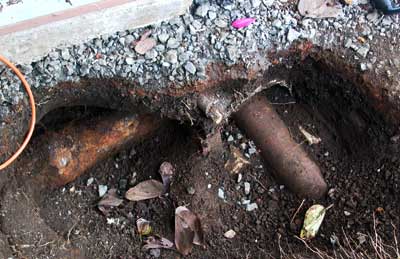 The pipe on the left was dis­cov­ered by dig­ging under our slab. The pipe is now head­ing for the show­er. These two pipes have noth­ing to do with each oth­er.
We dogged­ly dug around the edge of the bath­room try­ing to find our pipe— and when we did, we found it took a strange lit­tle turn and head­ed off in a com­plete­ly dif­fer­ent direc­tion. Ominously, it went under our new bath­house slab. No! Please not under the slab! We poked and probed where we thought it should emerge from the slab and found noth­ing. This is where I hit bot­tom and despaired ever find­ing that thing.
The prob­lem here was that the soil was very com­pact and the effort required to find that pipe was over­whelm­ing: it was we fig­ured about three feet down and a nar­row tar­get. I almost threw my back out every time I had to with­draw that piece of rebar we were prob­ing the ground with. But it had to be found. Thinking the pool itself would be eas­i­er to find, I began to probe like­ly spots, fol­low­ing the line of the pipe, and I did find evi­dence of a cesspool under the lime tree. I was con­vinced I had found it and I had Jonathan over to help me uncov­er it. We found a bunch of ran­dom con­crete buried under the ground. I was too dis­heart­ened to be curi­ous about what we found.
Another dead end, and then Lisa deliv­ered the ulti­ma­tum: find the cesspool in a week or we would install a com­post­ing toi­let. A sen­si­ble, if unac­cept­able, solu­tion. I was deter­mined to find that suck­er.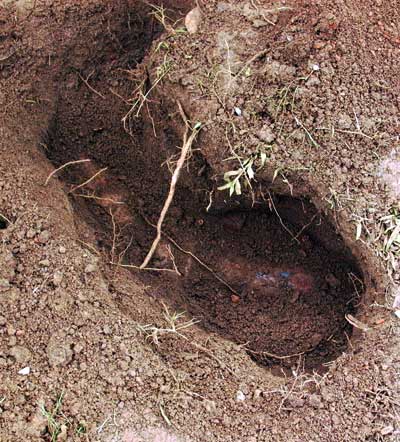 Crafty plumbers hid mult­ple bends and junc­tions like this one to fool ama­teur cesspool hunters.
I decid­ed we need­ed bet­ter prob­ing tech­nol­o­gy, so I fash­ioned a hydraulic probe using some cop­per plumb­ing I had around. It was just a 3 foot piece of 1⁄2″ pipe with a hose fit­ting and a valve. Hook it up to the water and the water would do the dig­ging and then the probe could be eas­i­ly removed. I began to sys­tem­at­i­cal­ly probe the area where the pipe was going last we saw it. Learned some inter­est­ing things about the var­i­ous soil stra­ta in the yard, but no cesspool. Dammit.
I asked Jonathan over to help, know­ing the hydraulic probe would "inject" new ener­gy into the project. He insist­ed we go back to fol­low­ing that pipe. Of course, he was right, but the prospect of find­ing that thing was daunt­ing. I had already probed where we thought the pipe would emerge from the bath­house and found noth­ing, but we probed some more and even­tu­al­ly gave that up and start­ed dig­ging. That's when we found that ras­cal­ly (still not know­ing just how ras­cal­ly) pipe. Now we knew the pool was­n't under our slab, thank God. But we could­n't find the pipe beyond the point where we found it, now that we knew it's angle bet­ter.
So we dug some more and lo! there was an elbow. Yet we could only fol­low that new pipe angle for about three feet. We dug at the spot we lost the trail and there was a 'Y' con­nect­ing to anoth­er pipe! Also a new angle for our pipe. No bends, indeed! Here were at least four! However, this last one turned out to be a sol­id lead as we fol­lowed the pipe with our trusty probe out to where the solar pan­els are. Well, those pan­els would be a lot eas­i­er to move than the slab would have been! We found the cesspool, final­ly, after three weeks, innu­mer­able probes and twelve holes, next to the solar pan­els. We began to out­line it's perime­ter.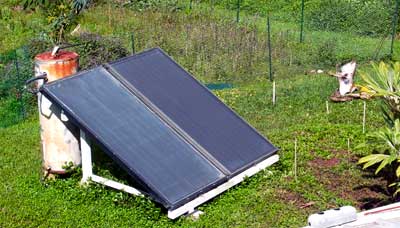 The lit­tle white sticks mark the perime­ter of the cesspool's con­crete lid.
I fig­ured the next day I would just uncov­er the hatch and we could pump the pool, so I called the san­i­ta­tion com­pa­ny. The next day I got the mes­sage that the dri­ver would be by lat­er in the day, so I began dig­ging. The hatch is sup­posed to be in the cen­ter, so I found the spot and start­ed there. Nothing, just a blank con­crete slab. I dug more, expos­ing a wider cir­cle. Nothing!! So, I thought it would be near the inlet, so I began to dig there, but this was com­pli­cat­ed by the fact that this was under the solar pan­els, so I had to jack up the pan­els to dig under them. I found noth­ing. By then, the dri­ver was com­ing, so I just hoped for his advice. Maybe they would knock a hole it it or some­thing… When the dri­ver got to the scene, with his huge tank truck, he just scratched is head and offered his guess on where the open­ing would be. More dig­ging, more noth­ing. Eventually, he went away and told me to call when I found it. This was sil­ly; but deter­mined to find that hatch, I kept dig­ging. By now, it was clear it was in some ran­dom loca­tion some­where with­in the 14 foot cir­cle we out­lined.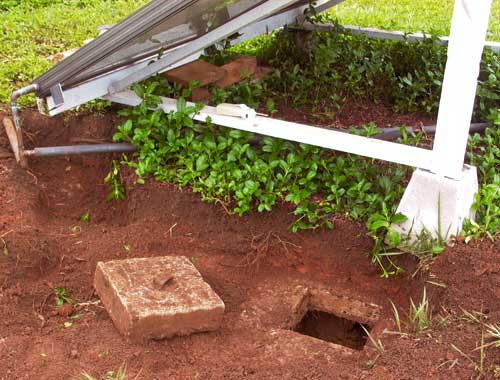 Here is the hatch, a huge pit lies through the open­ing.
I did find the hatch after a few min­utes of dig­ging and called the dri­ver on his cell­phone. I cleared the earth away from a block of con­crete sit­ting over the open­ing. When the dri­ver arrived, I moved the block away and we both looked into a huge, emp­ty pit. The sur­face of the con­tents was a good 10 feet down! There was real­ly no need to pump. We asked Joanna to flush the toi­let, and the water came pour­ing out of the inlet pipe down, down into the pit. Seems the cesspool was filled with rain­wa­ter, and con­sid­er­ing the last tor­ren­tial rains were just a cou­ple of days ago, we had some pret­ty good drainage in that pit.
It was a lot of effort, many blank leads and emo­tion­al turn­arounds but we now know about the cesspool and why it's giv­ing us trou­ble. There is a whole par­al­lel sto­ry in our lives as the cesspool saga coin­cid­ed with a drawn out cri­sis around how we spend our time and make our liv­ing. Two major busi­ness propo­si­tions and a restruc­tur­ing at the Lotus brings us to a more man­age­able rela­tion­ship with our beloved veg­an con­cern. A week's vis­it by our new friends Baker and Michaele brought a deeply open­heart­ed per­spec­tive. We shall see how it all unfolds; like the dra­ma of the cesspool, noth­ing has changed, yet every­thing has changed. For me, this com­plete­ly sen­si­ble because the sig­nif­i­cant change has been to more deeply detach from the prob­lems of life being solved. I'm grow­ing in my under­stand­ing that they will nev­er be solved, those dra­mas are just an end­less loop, and there­fore life's mean­ing is not to be found there. This is tremen­dous­ly lib­er­at­ing.