The Ranch: 1969 — 2002
February 10th, 2004
Early History
Here I will recount the sto­ry of this place as I remem­ber it…
When my grand­par­ents came to this place, it was a base sta­tion for a banana grow­ing busi­ness called Pacific Hawaiʻi Fruit. My grand­fa­ther, Claude Vernon Barker, became a part­ner in the com­pa­ny while he was still liv­ing on O'ahu. Things were not as they should have been with the busi­ness, so he began mak­ing trips to Kaua'i to try and straight­en things out. In 1969 they moved over here so Grandfather could run the day-to-day oper­a­tions and they decid­ed to make the base sta­tion their home. My grand­moth­er, Kathleen (Kay) Menorah Barker, fixed it up and cre­at­ed a beau­ti­ful place here— she was an excel­lent home­mak­er and gar­den­er— and there they lived for a few years.
Grandmother notat­ed these pho­tos tak­en not long after they first moved in.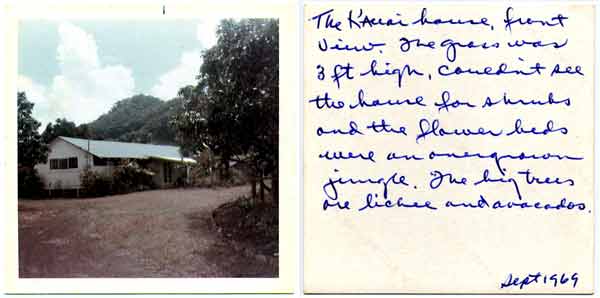 "The Kauaʻi house, front view. The grass was 3 ft. high, could­n't see the house for shrubs and the flower beds were an over­grown jun­gle. The big trees are lichee(sic) and avo­ca­dos. Sept 1969"
So, things haven't changed a bit… only the trees are a lot big­ger!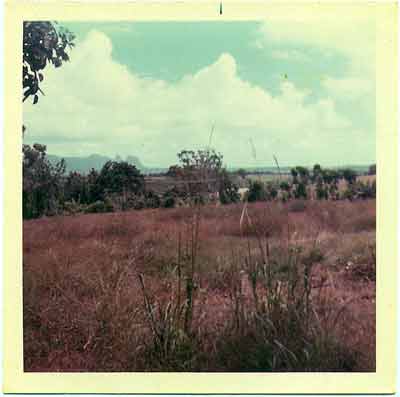 "Field back of house look­ing east toward the ocean. Will prob­a­bly plant to papaya or cit­rus. Sept 1969"
And so they did. I remem­ber the papaya orchard as a kid, and it was a thing of won­der. I did not learn to like the fruit for many years… This view is present­ly blocked by tall trees which have advanced up the hill toward our posi­tion. The actu­al direc­tion of this shot is north­east— liv­ing on a cir­cle wreaks hav­oc with your sense of direc­tion!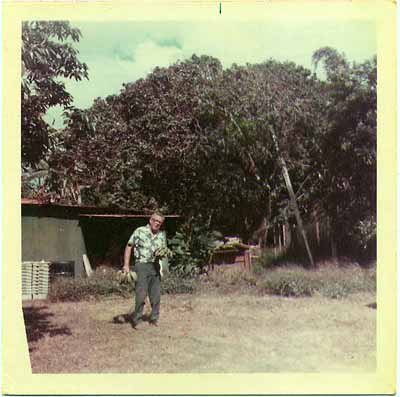 "A sam­ple of bananas. The build­ing behind is an equip­ment shed big enough for 4 cars or trac­tors. Sept 1969"
This is my grand­fa­ther… a man who loved to work. I'm sure he bought into the fruit com­pa­ny just to keep busy after he retired. It was a finan­cial bust, but I don't think the life of leisure they had in Lanikai (O'ahu) suit­ed him.
My grand­moth­er in the fresh­ly remod­eled Ranch House. She loved and excelled at all forms of home­mak­ing, and put a lot of love into this old house. Much of what she did remains.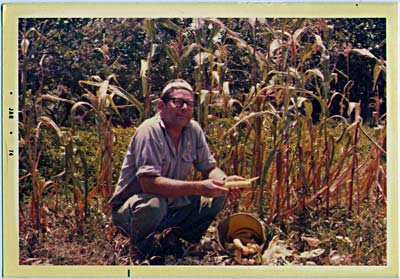 1974: By now the house has been remod­eled, the gar­den plant­ed, and the papyas and oth­er fruit trees estab­lished. This is my father, Gordon, with a corn har­vest.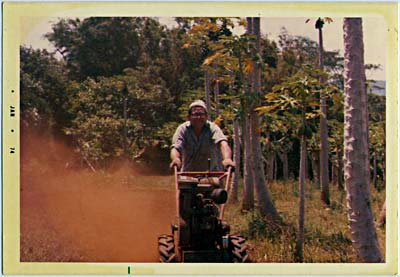 Funny, here is my dad doing what I am some­times doing around here! His rototiller is a lot big­ger, though.