What We Started With (2002–2003)
March 18th, 2004
Our story begins
June, 2004: Lisa, our two cats Kea and Loa, and I arrived on Kaua'i to stay and call this place home. After two years of liv­ing close to the land in the iso­lat­ed com­mu­ni­ty of Kipahulu, we have the expe­ri­ence and knowl­edge to make a go of it here on Kaua'i. It is with huge grat­i­tude for the open­heart­ed love, shar­ing and sup­port we found in the lov­ing and con­scious com­mu­ni­ty at Kipahulu that we leave the island of Maui.
Last sum­mer, my father Gordon Claude Barker, died at the age of 72 here in his home of 18 years. This land has been many things over the years, and now it's our turn to make this place our home.
This series shows the place as it was the last year my father lived here, 2002–2003.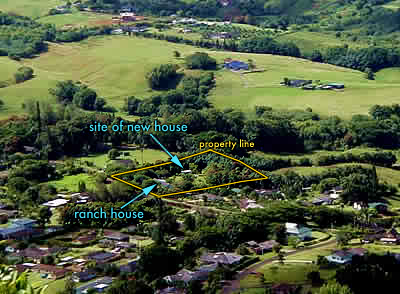 This is an over­head view (tak­en from the Sleeping Giant) show­ing the lot and envi­rons.
You can see that there still is a lot of pas­ture land around the place, but the pineap­ples are real­ly a thing of the past…
This is the Ranch House as it looked when my father was liv­ing there. My friends Dawn and Jonathan took care of the place after his death while Lisa and I were fin­ish­ing out our time on Maui. Jonathan dubbed the place Haleloa (mean­ing "long house") because of it's odd­ly long and nar­row shape. I have many child­hood mem­o­ries of stay­ing in this house. The tree fram­ing the top of this shot is one of a num­ber of very old, large, and pro­lif­ic lychee trees on the land. As kids, we ate our fill of these deli­cious, unusu­al fruits.
This is where I plan to build a new house. I have a page for the design and basic specs if you want to see a 3‑D ren­der­ing of my design. It may not seem espe­cial­ly inspir­ing from the pho­to, but this loca­tion has the advan­tage of nice views in two direc­tions, is well removed from neigh­bor­ing hous­es and gets the best morn­ing sun on the prop­er­ty. Having spent time here, I have real­ized that val­ue of this as (believe it or not, and you main­lan­ders will cer­tain­ly scoff!) the morn­ings often seem damp and chilly dur­ing the win­ter. Mostly this is due to the Sleeping Giant in the east delay­ing the morn­ing sun as you will see in the next pho­to.
Here we have one of the views we will be get­ting. This is the back of Nonou Mountain (The Sleeping Giant), and though there isn't much detail here, it's real­ly quite pret­ty. We will get a bet­ter view of it at the height we will be at, and also views to the south, includ­ing Mt. Waialeale. To the north­east, we will have an expan­sive view of Anahola Peak and the ocean, although you can't see it now due to many large trees and you need to be high­er up.
In the fore­ground is the open area in the cen­ter of the prop­er­ty which gets mowed present­ly, but we will be putting in gar­dens and var­i­ous oth­er plant­i­ngs. These details will be out­lined on the agri­cul­ture page when the plan­ning matures a lit­tle.
Here we see a bit of ram­pant growth shown as a point of ref­er­ence for lat­er devel­op­ments. On the left is an area present­ly plant­ed in land­scap­ing plants in a deal my father made with a friend of his. They are in the process of being removed, but it's a real­ly big job— you can't see but a tiny frac­tion of what is there.