The Transformation Begins…
September 12th, 2004
September 2004: It Begins to Take Shape
Key ele­ments have been estab­lished around the place by now: we have our veg­gie gar­den feed­ing us now, hot water com­ing in from the solar pan­els, plants start­ing in the new nurs­ery, and the for­ma­tion of a mas­ter plan for the house refurb.
The veg­gie gar­den receives quite a lot of our care and atten­tion— of course!— as we are high­ly moti­vat­ed to eat our own veg­eta­bles. At this ear­ly stage, we are buy­ing our com­post and amend­ments, but as the soil con­di­tion improves and our own com­post comes avail­able, we will be more self-sus­tain­ing.
By now, we are get­ting most of our raw foods from the gar­den, plus herbs and chilis:
The week­end of September 25th brought our good friends Rich and Virginia from Kipahulu here for an ener­getic work par­ty. Several giant steps were made towards com­plet­ing our first phase— loose­ly defined as the house refurb and estab­lish­ing our agri­cul­tur­al foun­da­tion.
There were four major projects for the week­end: new plant­i­ng in the gar­den, cre­ate the nurs­ery from a rick­ety old out­build­ing, build a tem­po­rary toi­let facil­i­ty, and install the solar hot water pan­els. Rich has a pret­ty impres­sive­ly wide range of skills, and solar ener­gy is among them… we decid­ed to get our solar up and run­ning right away since he would be here to set that up.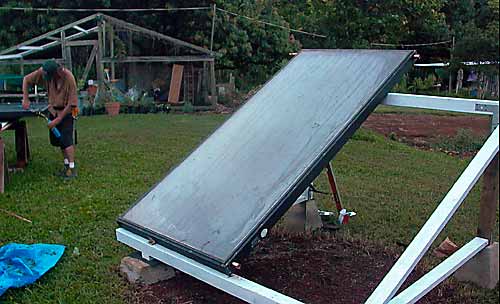 Rich was able to get 90% of the instal­la­tion com­plete, I fin­ished it off, replac­ing the glass in the bro­ken pan­el, com­plet­ing the sup­port struc­ture and fas­ten­ing of the pan­els. We got these pan­els for a good price from an appli­ance recy­cler on the island. It is our inten­tion to use recy­cled and sal­vaged mate­ri­als wher­ev­er pos­si­ble. This is a tem­po­rary set up until a new roof is put over the car­port— the pan­els will then go up there per­ma­nent­ly.
We need­ed to build a tem­po­rary toi­let facil­i­ty for use while the house bath­room is being remod­eled. This will con­tain a com­post­ing toi­let and a wash basin, and actu­al­ly has a rather nice view of the gar­den and cit­rus trees. As of this writ­ing, this lit­tle room is still under con­struc­tion.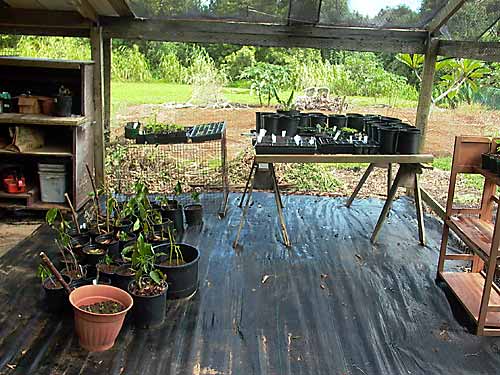 Virginia brought us cof­fee, yacon, edi­ble hibis­cus, lemon grass, com­frey, sun­chokes, black and white awa (kava kava), and gli­ri­cidia. What a great selec­tion of use­ful and beau­ti­ful plants!